Electronic Disposal (E-Waste)
Having broken or outdated electronics around your house or business can only add to the unnecessary clutter...But it's not as simple as throwing it in the trash.
Waxhaw Strong Hauling & Junk Removal can help with your electronic (e-waste) disposal!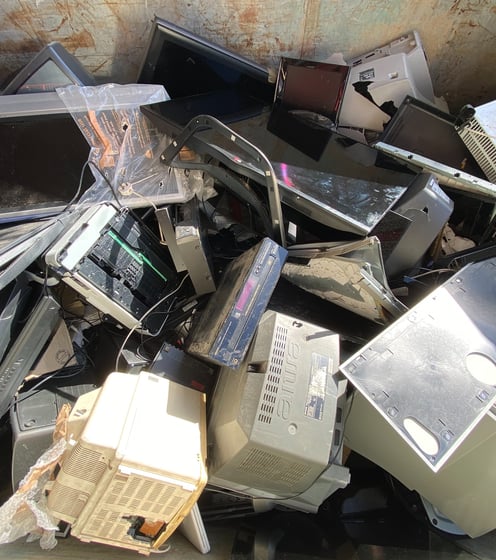 Disposing of an Electronic device...
You can't believe the electronic device you were so happy to get, is the same electronic that embarrasses your kids the most. You thought "The sound was so clear"...15 years ago.
So you've come to the realization that it's time to get rid of some of your old electronics. However, you didn't know of the summons you can receive for improper electronic disposal. Wait, what?!
For information regarding your county/city/private company electronic disposal dates, contact your local administration for more information. Those dates will help you save on disposal costs.
For immediate electronic disposal, contact Waxhaw Strong Hauling & Junk Removal for fast reliable service.
We will meet you at your home or business to understand exactly what you need taken away and how we can help with your electronic removal project.
After agreeing to the scope of work and price, we then get right to work removing any junk and unwanted electronics. We do the heavy lifting and proper disposal.
Copyright © 2021 Waxhaw Strong Hauling & Junk Removal and Providence Real Estate Solutions LLC | All Rights Reserved
Located in Waxhaw, NC 28173
We also service - Weddington, NC - Wesley Chapel, NC - Ballantyne, NC - Pineville, NC - Marvin, NC - Fort Mill, SC - Rock Hill, SC - Monroe, NC - Indian Land, SC